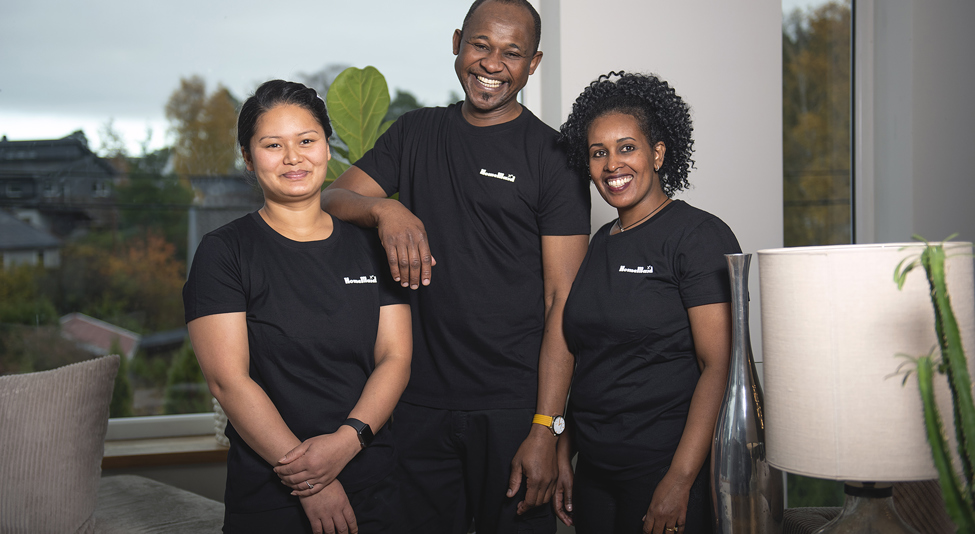 HomeMaid as a workplace
Working at HomeMaid is so much more than just a job. With us you're helping to build the best cleaning business in Sweden!
One of our goals is to be the best workplace in the industry, and we will achieve this with the assistance of our motto "Better together!" – we know that we work better when we do so together. Of course it's about a reliable and close partnership between those working in the offices and the people "out in the field". But it's also about the partnership with our customers. The better we understand how each customer wants their home to be, the better able we are to help them get it that way. This allows us to make everyday life easier for our customers, giving them time for other things.
We strive to achieve a working environment where skilled and committed employees have a chance to be the best version of themselves, developing both personally and in their professional role. When you become a HomeMaid employee, you bring your experience, talent, creativity, motivation and personality to the table, helping to build our brand and our corporate culture. This culture also grows from our core values: reliability, commitment, drive, inclusivity and joy.
And there's more:


We have a collective agreement and fair terms of employment
HomeMaid is one of the largest of the leading cleaning companies in Sweden, and we have long been pushing to improve conditions in the industry, in collaboration with the industry organisation Almega. Cleaning is a professional job, and it is important that those of us working in the cleaning industry should be covered by fair terms of employment, just like in other industries. Pay agreements, holiday pay, pensions and insurance and paid public holidays are examples of issues that we quality assure via the terms of the collective agreement. We are also certified within the cleaning industry to further quality assure our terms and conditions. We have a meaningful job that makes a positive difference in society.
Together we're building a strong culture
We want an open and inclusive corporate culture, where everyone gets to have their say and helps to make us better together. Dialogue tools enable both our employees and our customers to make their voices heard. Our leadership development programme is our way of ensuring that HomeMaid's managers are good leaders who support and help our employees to progress. If you are a member of our largest employee group, Service Assistants, you can join our "SA council", where we discuss things together and find solutions that take us forward and make us even better. And we have long had good relations with the trade union.
Plenty of development opportunities
HomeMaid attracts skilled and driven people who share our values. Some have previous experience in the cleaning profession, but it's not a requirement. You'll go through our basic training, just like all our employees, and learn to clean like a professional. HomeMaid's team of Trainers, Supervisors and Team Leaders help with both the basic training and further training of our employees. Skilling yourself up for one of these roles is one of many career opportunities when you work with us.
Read more on Training and careers at HomeMaid here.
How you feel is important!
We want you to stay fit and healthy when you're working with us – which is why, wherever possible, we use ecolabelled cleaning products that are gentle on our employees' health and on the environment. Ergonomics is covered in our introductory training for Service Assistants, and you're entitled to a fitness grant that makes it easier for you to keep yourself fit and strong.