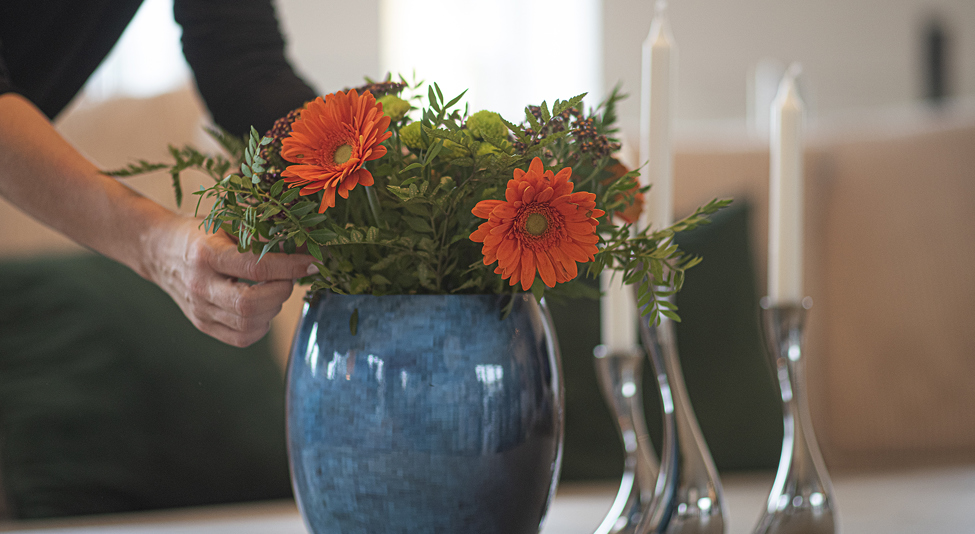 Viewings cleaning
Time to sell your home? Avoid the stress of preparing for viewings. Let us take care of the cleaning, so prospective buyers see your home at its sparkling best.
How viewings cleaning works
We freshen up your home for viewings and photographs, so it really does itself justice. A clean and fresh-smelling home increases the chances of a successful sale. We have a carefully compiled checklist for cleaning ready for viewings, but we're naturally happy to adapt to your wishes. It's a good idea to also book window cleaning at the same time, as clean windows can make a huge difference to that first impression.
What does the viewings cleaning involve?
We clean all the living areas, the kitchen and dining area, bathrooms and toilets, the laundry room and boot room. The list below sets out exactly what we do in each room when cleaning for viewings. For the best cleaning results, we recommend that things are tidied away before we arrive. Get in touch and we'll help you draw up a plan!
Add window cleaning as an extra service! Clean windows play a huge role in making your home look its best.
What a viewings cleaning session includes
Dust horizontal surfaces
Vacuum rugs/carpets, floors and skirting
Remove marks from cupboard doors, sockets, light switches, architraves, mouldings, doors and door handles.
Polish mirrors
Empty waste baskets (combustibles and compostables)
Dust picture frames and lamps
Remove marks from and mop floors

See above, plus:

Clean bath and shower cubicle
Remove marks from bathroom furniture
Wipe down hooks and towel rails
Clean inside/outside of sink
Clean inside/outside of toilet

Same tasks as for living areas, plus:

Clean tiles/splashback above sink
Clean outside of stove
Clean microwave oven inside and out
Wipe down household appliances
Wipe down outside of fridge/freezer
Clean kitchen bin
Wipe down dining table and chairs
Clean kitchen sink, drainer and tap

Clean kitchen sink, drainer and tap
Dust, vacuum and mop clear surfaces
FAQs
We usually recommend that the viewings cleaning is carried out before the photography takes place for the best results. 

If the home is left empty between viewings, it will not usually require any cleaning before the next viewing. If necessary, we usually recommend a short "normal" clean just before the viewing and/or between viewings.
It depends on the size of the property, but around three times as long as a normal weekly cleaning session. Contact us for an estimate!

We'll bring everything with us, so you don't need to supply any cleaning products, cloths and so on. Just let us know if you have a vacuum cleaner and stepladder available, otherwise we'll bring our own. We'll supply all the other equipment and materials. If there are surfaces that require some form of special product, let us know and we'll sort it out together