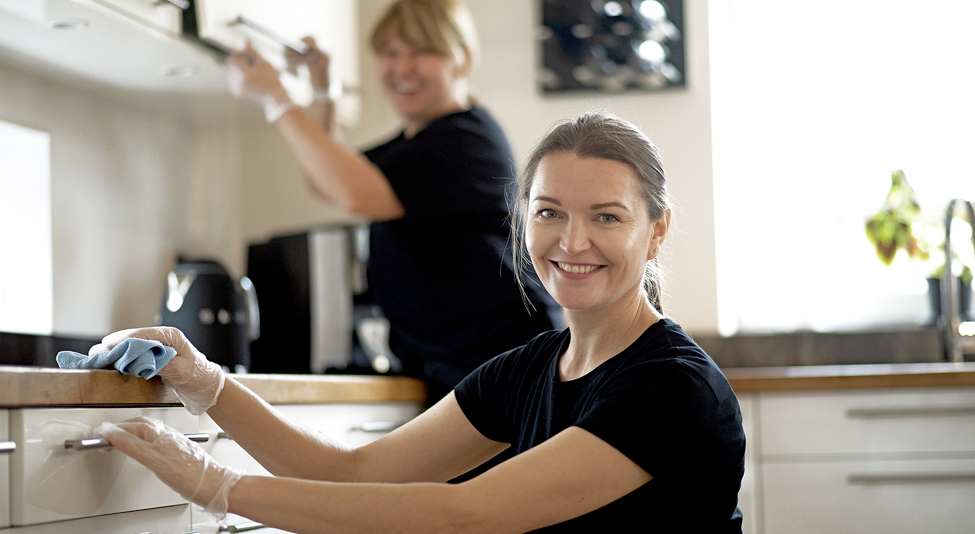 Home cleaning on your terms
Come back to a fresh, clean and tidy home. We'll take on the job of keeping your home clean, taking away the worry and giving you time for other things.
Safe and effective home cleaning
Getting the professionals in can often be a huge relief. You can stop worrying about the cleaning and feel safe in the knowledge that it will be done properly. Here at HomeMaid, we have almost 25 years' experience in cleaning thousands of Swedish homes, helping our customers to keep on top of things. We are passionate about making life simpler and cleaner for you, a life of calm with fewer chores. With us, you get the same service assistant every time. A person you know, who knows your home and knows how you want things – making the service both safe and efficient.
You decide how often you want the cleaning service
Many people opt for home cleaning once a week, but you can of course choose a plan where we clean more or less often. Sometimes it may be inconvenient for us to come, in which case simply let us know and we'll bank your hours for later use. We take care of all rooms and spaces: view the details about how the cleaning works and what is included here.
Any questions? Get in touch! Or book your cleaning now.
Anything missing from the list below? Our home cleaning is an adaptable and flexible service, so we can work together to produce a cleaning plan just for you.
How home cleaning works
For the best cleaning results, we recommend that things are tidied away before we arrive. Here's how we clean different rooms.

Dust horizontal surfaces
Vacuum rugs/carpets, floors and skirting
Remove marks from cupboard doors, sockets, light switches, architraves, mouldings, doors and door handles.
Polish mirrors
Empty waste baskets (combustibles and compostables)
Dust picture frames and lamps
Remove marks from and mop floors

Same points as listed above, plus:

Clean tiles/splashback above sink
Clean outside of stove
Clean microwave oven inside and out
Wipe down household appliances
Wipe down outside of fridge/freezer
Clean kitchen bin
Wipe down dining table and chairs
Clean kitchen sink, drainer and tap

Same points as listed at the top, plus:

Clean bath and shower cubicle
Remove marks on bathroom furniture
Wipe down hooks and towel rails
Clean inside/outside of sink
Clean inside/outside of toilet

Dust, vacuum and mop clear surfaces
FAQs
When cancelling a single cleaning session, please inform HomeMaid at least 7 days in advance. In the case of a subscription agreement with annualised invoicing and time banking, we will invoice monthly as usual. Your unused hours will be saved in a time bank so that you can use them for home cleaning later in the year. 

As a customer with us, you will have a dedicated service assistant who is responsible for cleaning your home. If your service assistant is off sick, we will ensure that somebody else from our cleaning team does your home cleaning in their place. All our service assistants are trained in cleaning, environmental impact, cleaning products and ergonomics, so you can rest assured that they know exactly what they're doing.