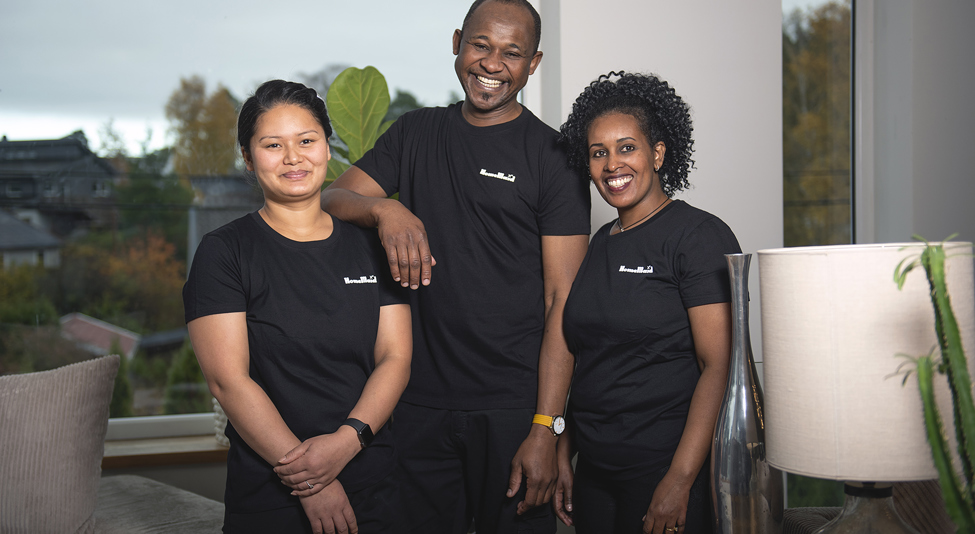 About us
Since our launch in the mid-1990s, HomeMaid's employees have helped thousands of customers to enjoy a cleaner and more pleasant life by providing home cleaning, office cleaning, property cleaning, window cleaning and much more besides. The clear and simple vision on which Birgitta Josefsson built HomeMaid in 1997 is this: To make everyday life easier for its customers. And it quickly proved to be a winning concept.
HomeMaid has had its headquarters in Halmstad since 2000, but the company has a presence from Skåne in the south to Sundsvall in the north. The company has been listed on the stock exchange since November 2005. As a member of Almega's industry organisation for domestic services, we lobby on issues concerning insurance, pension agreements and safety at work.
Our philosophy


Our mission
HomeMaid is here because we're needed. We know how difficult it can be to find the time for work, family, recovery and household chores. Our mission is to help you to establish a balance that works for you. Getting the professionals in can often be a huge relief. You can stop worrying about the cleaning and feel safe in the knowledge that it will be done properly. Here at HomeMaid, we have almost 25 years' experience in cleaning thousands of Swedish homes, helping our customers to keep on top of things. We are passionate about making life simpler and cleaner for you, a life of calm with fewer chores.
Employees with fair terms of employment
We take it as a given that our employees receive fair pay, are covered by a collective agreement and enjoy humane working conditions. HomeMaid is a member of Almega and has a collective agreement with Kommunal. You can read more about how we look after our employees here.
Environment and sustainability
We are one of the major providers in our industry. This is a considerable responsibility, because we are able to influence so much through the products and methods we use, the way we work and the way we get around. You can find out more about our environmental and sustainability work here.
What our customers think
HomeMaid has been taking the strain and helping people manage their everyday lives, as well as serving companies by creating clean and pleasant environments, since 1997. We'd love to hear what you think – our customers can help us to become even better. Give us your views in a sentence or two!
Buy time for what is important