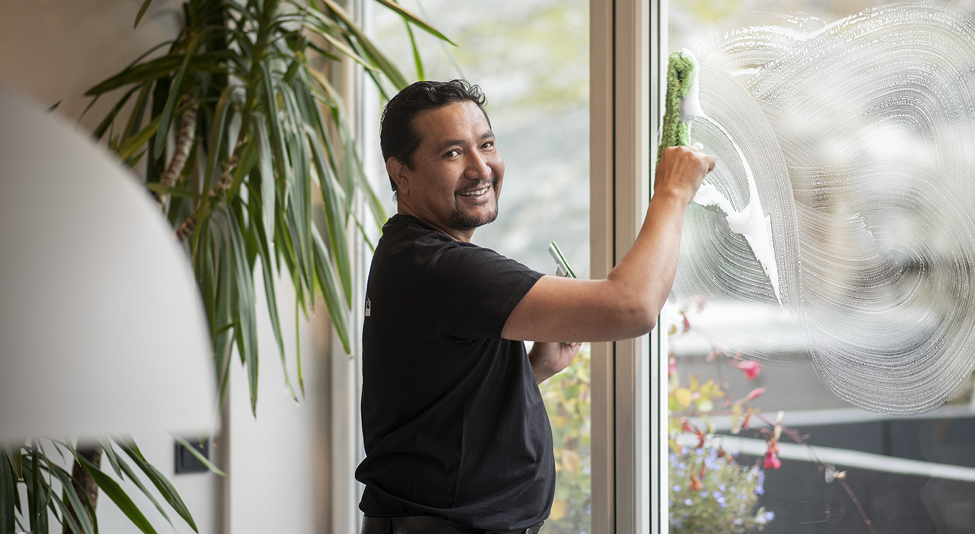 Window cleaning
Sparklingly clean windows really lift a home. Suddenly the rooms feel lighter and the whole home feels cleaner. Let us take care of the window cleaning!
Window cleaning: single sessions or subscription?
You may long for gleaming windows, but the sheer effort involved can be off-putting. Window cleaning tends to feel like a big job, and even a slightly dangerous one if you live high up. So why not leave it to the professionals? We love sparklingly clean windows and are sure you'll be pleased with the results. You can opt to book window cleaning as and when you need it, or you can take out a subscription – we'll decide together how often you need your windows cleaned, and then we'll take care of it at regular intervals without you having to book it in.
Before window cleaning
So that we can do as good a job as possible, there are some things we would like you to do ahead of the window cleaning:
Move furniture out of the way, take down curtains, clear windowsills.
Do you have locks on the windows? Don't forget to put out the key for us!
Is there any damage? (scratched or cracked glass, problems with handle, broken blinds or similar). Let us know before we start cleaning! We won't clean damaged/cracked windows.
Don't forget to tell us if you have a glazed balcony or terrace and also want us to clean this.
FAQs
It depends on the number of windows that need cleaning, the type of window and their position. Contact us for an estimate of the time it will take.

No, we'll bring everything we need. If there are any windows that are very difficult to get to, we'd like to know about this in advance, because we may occasionally need specialist equipment. 
Yes, rain is rarely a problem (as long as it's not really torrential). Cold and wind are the most common hindrances. If our staff judge that they can't do a good job because of this, we will of course reschedule the window cleaning for another time. 

You don't need to do anything, the RUT tax deduction is handled automatically. We report it to the Tax Agency and you receive an invoice with the deduction already included. For more information: click here.