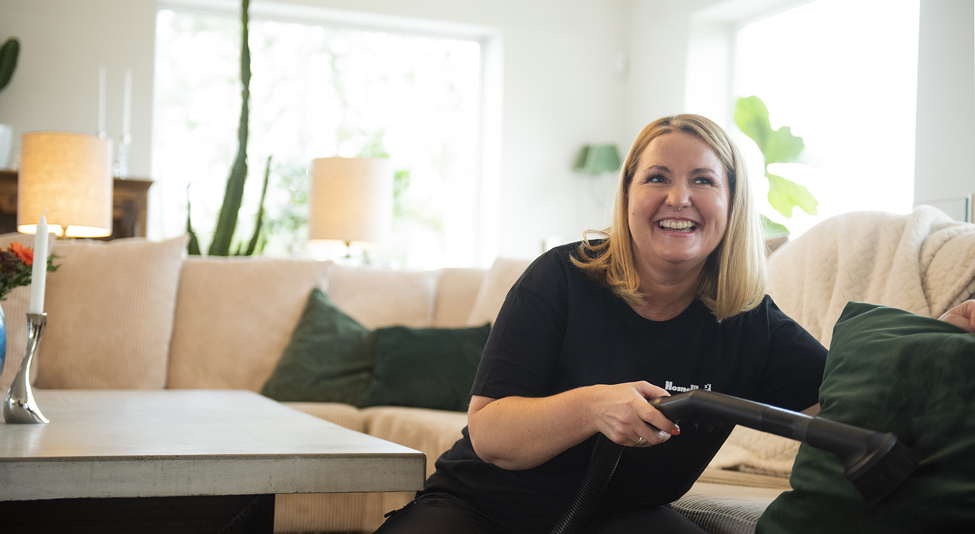 Deep cleaning
Few things can make you enjoy your home as much as a thorough deep clean. It feels even better to get a deep clean before celebrations and festivities with guests – or why not just for your own sake?
What does deep cleaning involve?
You know your own home best and how you want it. A number of standard tasks are always included in our deep cleaning service, but we're happy to work with you on a list that means you get exactly what you want. We dust, clean around white goods, vacuum and air all the rooms, wet mop the floors and do much more besides. We usually spend extra time on the kitchen and bathrooms, as they can require a proper expert clean, but we'll tailor the deep cleaning to your wishes. In deep cleaning, we also properly clean areas that are high up or difficult to access.
Additional services
As part of the deep cleaning service, you can also book:
Window cleaning
Deep cleaning of rugs/carpets, sofas, armchairs and beds
Laundry, ironing and textile care
Dusting of books
Changing bedding (fresh bedding must be supplied)
Internal cleaning of fridge/freezer (freezer must be defrosted)
Internal cleaning of kitchen cupboards and drawers
Polishing silver
Other requests


We have a customer satisfaction guarantee!
In the unlikely event that you're not happy with the result of the deep cleaning service, contact us within 48 hours and we'll put things right.
A few tips before a deep cleaning:
To do as good a job as possible on the deep cleaning, we would like as much as possible to be tidied away before we arrive.
If you want us to clean behind white goods, please pull them out (and then push them back after the cleaning).
If you want us to clean under the bath, lift off the bath panel (and then put it back once we're done).
You also need to remove the glass from the oven door and then put it back yourself, if you want us to clean between the panes.
Checklist for deep cleaning
Dust horizontal surfaces, including above cupboards
Vacuum fabric-covered furniture, rugs/carpets, floors and skirting
Wipe cupboard doors, radiators, ceiling vents, sockets, light switches, architraves, frames, mouldings, doors and door handles
Polish mirrors
Empty waste baskets (combustibles and compostables)
Dust picture frames and lamps
Remove marks from and mop floors

Same tasks as above, plus:

Clean tiles above sink
Clean extractor fan/hood, filter and safety glass
Clean microwave, oven, hob inside and out
Wipe down household appliances
Wipe down outside of fridge/freezer/dishwasher
Clean kitchen bin
Wipe down dining table and chairs
Clean kitchen sink, drainer and tap

Same tasks as for living areas, plus:

Clean bath and shower cubicle
De-scale floor/walls/shower screen
Clean floor drains
Clean walls and visible pipes
Clean outsides of bathroom furniture
Clean inside/outside of sink
Clean inside/outside of toilet

Dust, vacuum, wipe and mop clear surfaces
Vacuum above washing machine/tumble dryer, wipe outsides of the machines
Clean detergent drawer
Clean filter in tumble dryer
Clean sink, drainer and tap
FAQs
It depends, of course, on the size of your home, as well as how it is furnished, its layout and whether there are items that need to be handled in a particular way. If you have any special requests, talk to us! We're happy to adapt deep cleaning to your needs.

No, you don't have to worry about that. For deep cleaning, we bring along everything we need to complete the job. However, we would be grateful if, when you make the booking, you could tell us whether you have a vacuum cleaner and/or stepladder available, so we don't bring one unnecessarily.
There aren't really any major preparations, but the more things have been tidied away, the faster the deep cleaning will be. If you have a stepladder at home, please tell us beforehand and leave it out for us! Otherwise, we'll bring our own.